You are here
Fokker DVII Build Story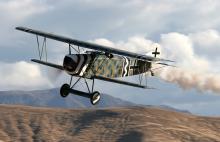 There are as many reasons for taking on a project as there are methods to complete it. In the case of movie props... one source is the original article, another is to build a replica. Time constraints and deadlines sometimes dictate the style and construction methods. In the case of the Fokker DVII built for "The Blue Max" film. We can safely say the aircraft was built to an airworthy standard in a very short period of time! At the Vintage Aviator Ltd we are responsible for the operation and maintenance of a number of WW1 aircraft, including the Fokker DVII built in France for the 1966 film "The Blue Max". The original constructors of this machine, Rousseau Aviation, Dinard Airport France, did a marvelous job at creating a flying aircraft replica for the film, however years of use and several owners later have taken it's toll. This aircraft was airworthy when it arrived here in New Zealand but we wanted to restore it and add more details that would make it a more accurate replica.
After having flown the DVII for several hours here in NZ we became aware of its shortcomings rather quickly, it just didn't perform like the legendary fighter it represented. The airplane was heavy and the engine seemed a bit tired and the fabric covering was clearly a quick attempt at "fake" printed lozenge. Each pilot that had the chance to fly it liked it, but all made the same general comments "It feels heavy", "It wont climb", and "I cant catch the SE.5a or the Camel"...
Face Lift
The decision was quickly made to give the DVII a bit of a face lift. After all of our airshow commitments had passed we started to disassemble the aircraft and see what could be done to improve its performance and looks. Since this airplane is a replica that doesn't use an original engine nor original construction we had a great deal of leeway on what we could do.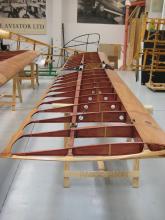 In all fairness to the original constructors, this aircraft has been around for a while and has been used in several films, it served it's purpose and did a fantastic job. The sheer fact the airplane has been in service for nearly 45 years could add to it's lack of performance, propellers have been changed, the engine was starting to get tired, repairs have been made and the airframe was getting heavier as planes seem to do when they age! With the dismantled aircraft in our workshop we could remove the fabric and inspect all of the individual components. The construction slightly different to the original, ribs are made of thin plywood and the spars appear to be solid laminated lengths of spruce. The trailing edge has been cut out of timber rather than the original wire trailing edge that gives many Fokker aircraft that distinctive "scalloped" look. Wing tip bows are made of massive chunks of ash that have been steamed to shape them. In an effort to make sure this aircraft was back in the air before too long we set a deadline to "return it to service" so that we didn't end up rebuilding everything or spending too much on it! It was quickly determined that the wings were in good shape and only minor repairs were needed. We removed some weight from the wingtip bows and sealed the entire structure to protect it from moisture.


 
Materials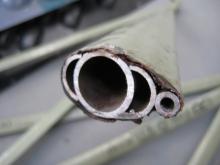 When building any aircraft raw materials are of prime importance. The selection of materials based on strength weight and availability. It became apparent that during the construction of the DVII the selection of materials to build the aircraft out of must have been strongly influenced perhaps dictated by the time frame. For instance the decision to make "streamlined tube" out of several round tubes had to have been because the builders could not source appropriate sized streamlined tube in a hurry. This method of construction added a huge amount of weight to the plane and was far more labor intensive. The cabane strut "tripods", interplane struts and landing gear struts were all built up of many pieces of tubing rather than single streamlined tubes. These make shift streamlined tubes were built up of at least two whole round tubes of different sizes and then tacked together with two more sections of round tube split in half! Each conglomerate of steel tubing was then wrapped with fabric to give it a finished streamlined airfoil shape. These parts alone were several times heavier than a similar part made out of a single sreamlined tube. In order to replace these built up struts we positioned the overhauled wings in place on the fuselage and rigged the airplane, partially fabricating the new struts in situ.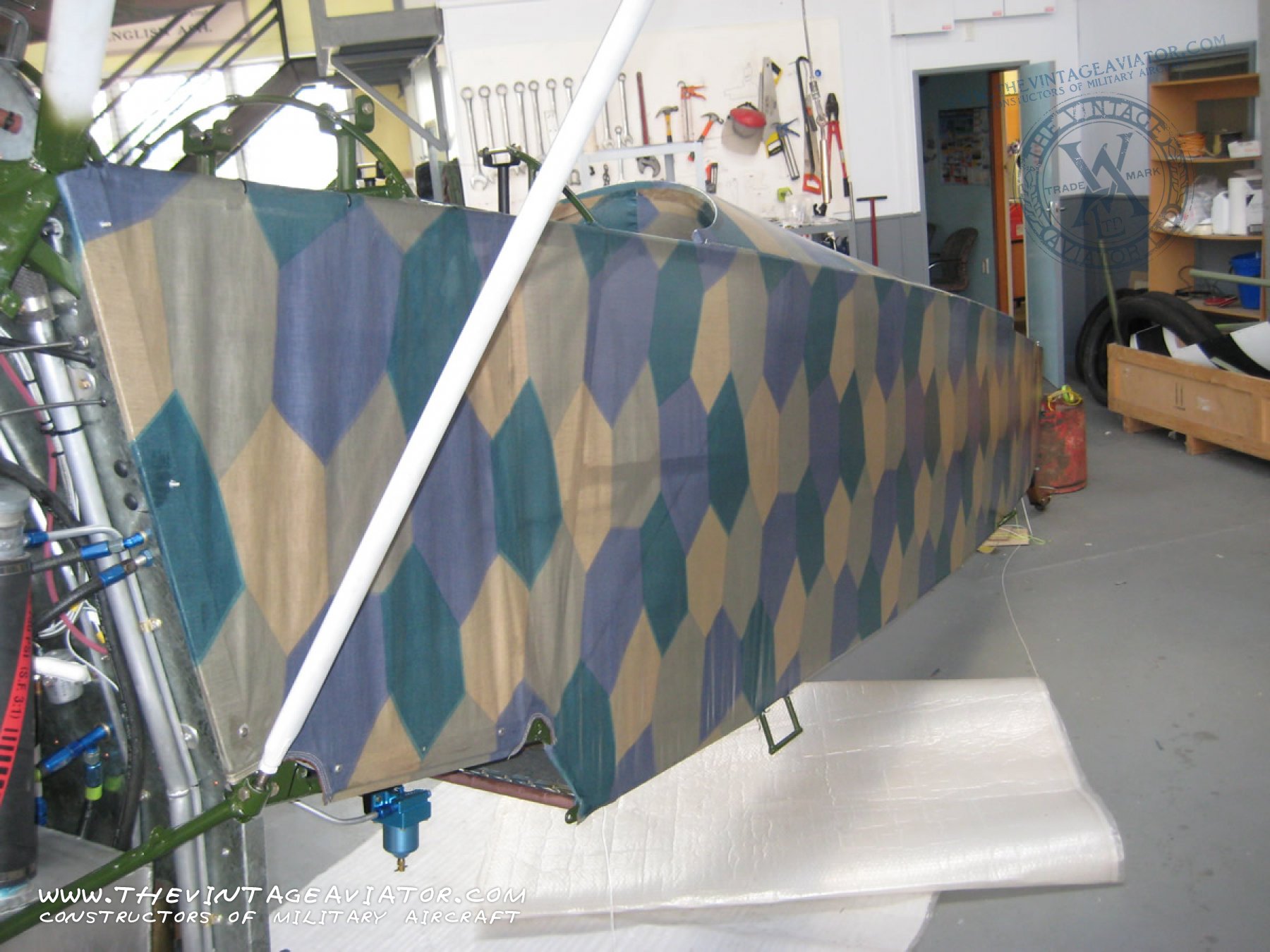 Remaking Authenticity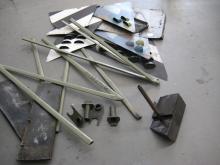 The tail surfaces were also constructed out of materials that deviated a great deal from the original. Since many sets of drawings and much research has been made into the Fokker construction it would be foolish to imply the builders were simply not aware of the original construction. The original constructors also mentioned that they had access to one of the surviving original Fokker DVII's housed in the French Musee de l'Air at Chalais Meudon. Once the tailplane was stripped of fabric we decided to see why it was so heavy. We have already restored seven Fokker Triplanes and have a tremendous experience with Fokker tailplanes. The DVII  tailplane just felt wrong! The easiest way  to check the material would be to cut into it and see how thick the steel tube was....... after one slice we discovered it was more like pipe!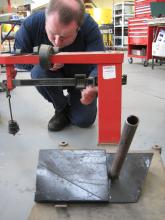 This would explain the huge lead weights attached to the engine mount, these were needed to counterbalance the heavy tail and maintain a reasonable center of gravity. We were shocked when we removed the weights and set them on our scales. The two weights totaled nearly two hundred pounds! Part of this was necessary to compensate for using a lighter more modern air cooled engine, a gipsy queen, instead of the heavier liquid cooled Mercedes engine which would have originally been used.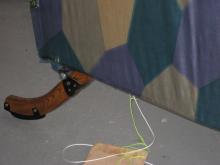 A new tailplane was in order, some parts were reused and incorporated into our new chromoly structure. While we were working on the tail section we decided to install a proper tailskid in place of the tailwheel that was fitted. We knew that a tailskid must have been installed when the airplane was built, it appeared in the film with one, and all the mounting points and bungee attachments were already in place. Fitting a tailskid was easy.
Structure

Moving forward from the tail, we found the structure to be well preserved and in incredibly good condition, all that was required was stripping the paint and removing some unnecessary turnbuckles. The Fokker style fuselage is of welded steel construction, having wire bracing in each "bay". In this replica each wire brace had two turnbuckles, we elected to liberate some of these turnbuckles for future use elsewhere and to reduce weight once again. The steel structure was stripped and repainted and all new hardwire bracing installed with half as many turnbuckles. The floorboards were heavy old oil soaked fiberboard that was beginning to delaminate so we replaced these with aircraft plywood and thin aluminum "heel plates" to help prevent the wood from wearing away. The seat, control stick assembly and rudder bar was a complete unit removed from a Stampe biplane, this unit was restored and reinstalled after minor modification to the brake master cylinders.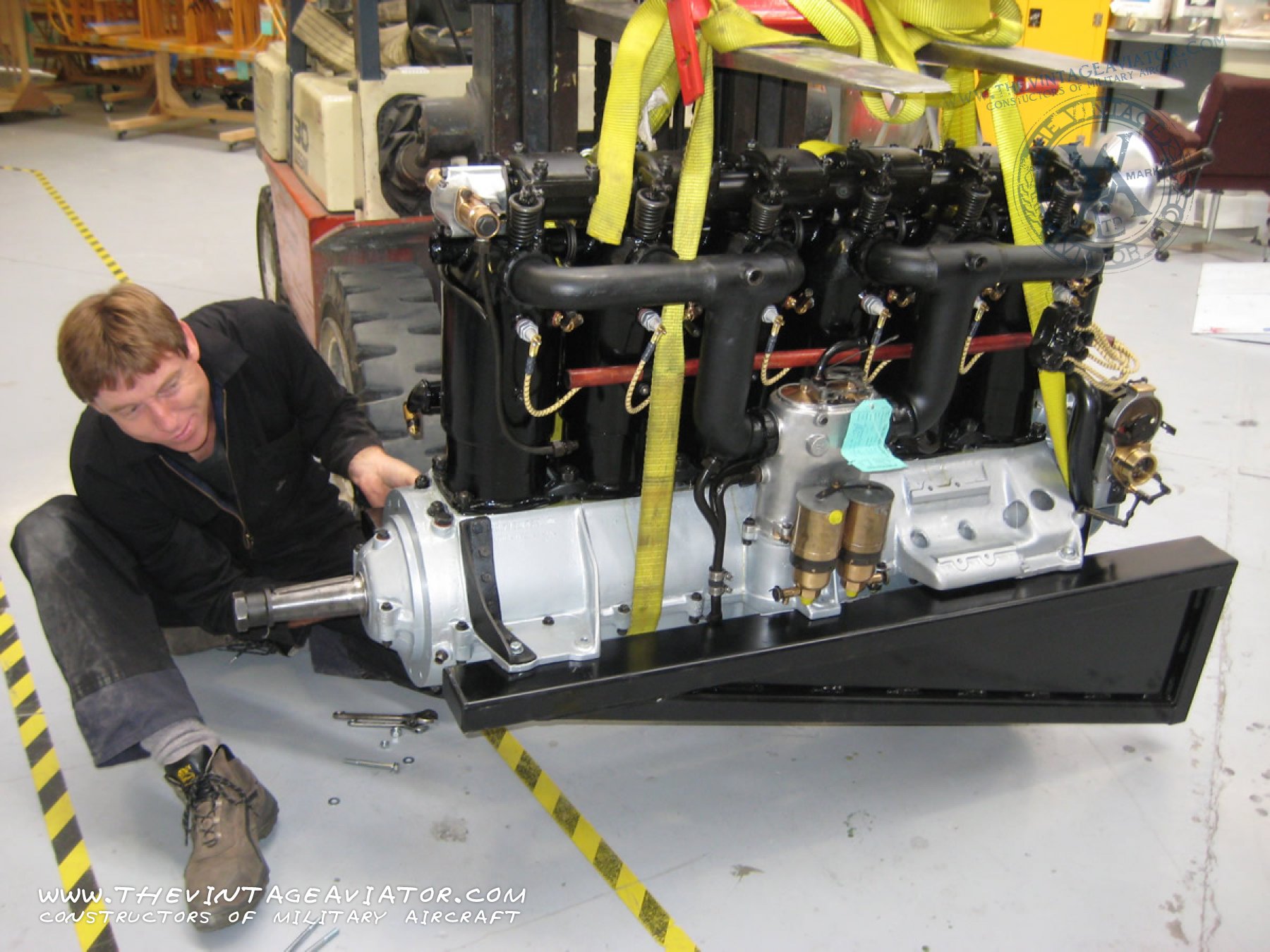 Accessories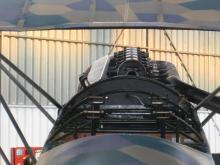 In an effort to make the DVII look more authentic we installed a set of our reproduction aircraft guns, in this case LMG 08/15  "Spandau" machine guns. We removed the makeshift windscreen and added ammo chutes, fuel gauge, fuel filler and various doors and access panels that an original aircraft would have. Again to our amazement, this airplane had a huge fuel tank entirely made out of steel turn plate, it weighed a ton. We decided to make a lighter aluminum tank with a slightly smaller volume, this even gave the pilot more room for his legs.

Forward of the firewall we focused our efforts on cleaning up plumbing and wiring since the engine installation was functional and in fairly good order. Upon inspection only a few brackets showed distress form years of service, these were repaired by welding or replaced and the newly overhauled Gipsy queen set in place so that new cowlings could be made. The replica already had slightly modified cowls to hide the modern engine and disguise it looks, these could be improved on.  We chose a late model Fokker Built aircraft to replicate, this necessitated making new cowlings with proper louvers and a reshaping of the fiberglass nose bowl.  
Heavy Steel Landing Gear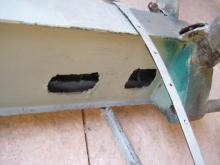 The last major item to overhaul was the landing gear. Like everything else, this was heavy and made of steel. Original Fokker landing gear was carefully designed to be both strong and lightweight. Instead of the original style riveted aluminum box section this landing gear was made of Steel with access holes cut with a torch! Now it may not have been pretty but it sure worked well. The entire landing gear and axle assembly was replaced and as a result a weight savings of nearly sixty pounds was realized. After building the more authentic Fokker style landing gear one could see why a simpler version was used, the aluminum box section was difficult to construct and certainly took much longer than the simple welded version, and in the end it is completely hidden by the large fairing between the wheels.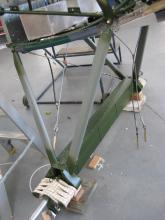 Only with a replica aircraft could we have the leeway to experiment with restoration and reconstruction on this level. However, with the time constraints involved, TVAL had to discover methods of reconstruction that wouldn't involve total rebuilding and painstaking hours of work. With the overall facelift that the Fokker DVII received, including quite a drastic weight loss with the tailplane, fuel tank and landing gear replaced, we became confident that this would increase the aircraft's performance in the sky, not to mention more leg-room for the pilot! Now with brand new Spandau guns and printed fabric replacing the previous painted lozenge, the new Fokker DVII is surely close to it's former glory as a renowned fighter of speed and maneouverability, surely capable of once again catching the Se5a and the Camel.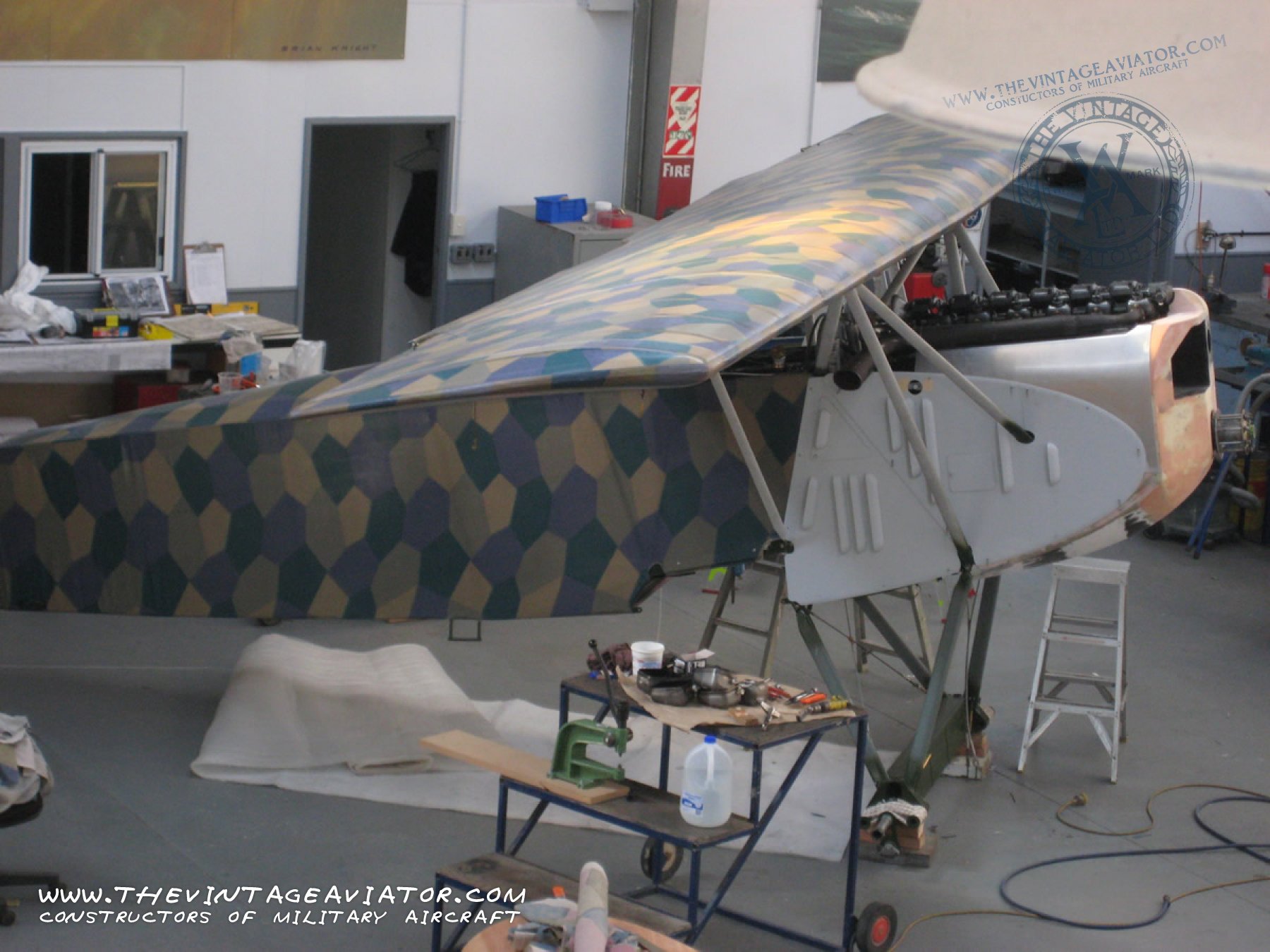 Images of the Fokker DVII Build process