You are here
Classic Fighters 2007
Field Report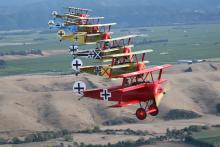 Easter 2007 produced the best weather yet  experienced at a Classic Fighters event, along with the best airshow ever  held at Omaka. Without any question whatsoever, the highlight of the event  was the remarkable formation of no fewer than SEVEN Fokker Dr.I Triplanes, all wearing specific colours schemes from aircraft of Jasta 11, circa late March 1918. The sight of these colourful machines performing together made for an astonishing spectacle, especially when mixed with  the broader WW-I theatre comprising a similar number of other WW-I  aircraft. Of special note was the just completed SE.5a built by The Vintage Aviator Ltd.,  and flown behind an original Hispano Suiza engine. Also making its public  debut was the beautiful Nieuport N.11, powered by an original 80 hp Le Rhone rotary and just refurbished in its colourful Italian  markings.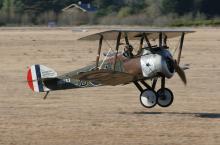 Among other highlights from the 2007 show was the selection of WW-II fighters including the Wanaka based P-51D Mustang making its flying debut at a New Zealand show, and the Yak-3 also visiting from Wanaka. The '1830 Symphony' was comprised of the unusual formation of two DC-3s and a Catalina while the 'Aviation in the Movies' theme included set-pieces from some iconic motion pictures. These included 'A Bridge Too Far' complete with crashed troop gliders, 'Tora, Tora, Tora' which  saw two dozen Harvards/Nanchangs/Yaks simulate the attacking Japanese  forces while a pair of P-40s attempted to fight them off, and 'Apocalypse  Now' complete with a flight of approaching Iroquois helicopters accompanied by a 'Ride of  the Valkyries' sound-track.

The 2007 Omaka show will be remembered as a fabulous event for the visitors, but mostly it will be remembered for that  unprecedented sight of Jasta 11 flying again over the trenches just as it  did 90 years  earlier.
- Graham Orphan
T.V.A.L. Aircraft Appearing
Sopwith F1 Camel
Nieuport 11 ................................... Fred Murrin
Nieuport 24 (White 3) ................  Tim Sullivan
RAF SE.5a
Fokker Dr I Triplane ................... John Lanham (Manfred von Richthofen)
Fokker Dr I Triplane ................... Scott McKenzie (Steinhauser)
Fokker Dr I Triplane ................... Huggy Hughan (von Doe)
Fokker Dr I Triplane ................... Jerry Chisum  (Lothar von Richthofen)
Fokker Dr I Triplane ................... Gavin Trethewey (Monicke)
Fokker Dr I Triplane ................... Frank Parker (Weiss)
Fokker Dr I Triplane .................... Greg MacDonald (Wenzel)
Pfalz DIII ..................................... Andrew Vincent
Fokker DVII ................................ Stuart Tantrum