You are here
Classic Fighters 2011 - "V for Victory"
Easter Weekend APRIL 22-24, 2011
Omaka Airfield, Blenheim New Zealand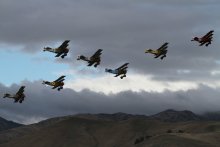 The Great War aircraft took to the skies in a daring battle that included as its foundation, the return of the amazing 'Jasta 11', the squadron that made such a reputation for itself throughout 1917 and early 1918 with Manfred von Richthofen, the famous 'Red Baron', leading in his distinctive all-red Fokker Dr.1 Triplane.
In all, an amazing SEVEN Fokker Triplanes flew in the Jasta 11 formation this year!
Omaka has been privileged to host the largest number of Fokker Triplanes to fly together anywhere since early 1918 when these machines ruled the skies over the western front.
They did not have it all their own way however and allied aircraft performing at Omaka this year included the Gnome rotary powered Sopwith Camel, the amazingly agile Sopwith Triplane, the Bristol F2B Fighter and the de Havilland D.H.5 with a Nieuport 11, its 80 hp le Rhone rotary spinning vigorously, helping keep the Germans at bay. But it was not easy as there were so many of them!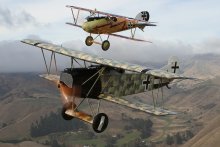 In addition to the seven Triplanes, there was the new machine in the form of the Fokker D.VII, the best German fighter of the war, and then the older but very capable Albatros D.Va, this one flown so well by owner Kermit Weeks who travelled all the way from Florida to collect his beautiful, hand created, Mercedes powered reproduction from the artisans at The Vintage Aviator Ltd., who were responsible for this amazing, perfect, 'late production model' Albatros fighting scout.
Based around the French chateau occupied by the German Air Service (and complete with a Besseneau hangar constructed alongside to house the early Fokker D.VIII prototype which was sadly destroyed by allied bombing on Easter Sunday), the ground troops and period vehicles (including TWO allied 'Mother' tanks) fought it out bravely along the crowd-line whilst over a dozen WW-I fighting machines battled it out overhead.
One could never see such a remarkable tussle without the use of a time machine to travel back to the western front in the early part of 1918. What an amazing spectacle!
2011 gathering of all the classics vintage planes