You are here
Creating a new Albatros
"Tackling the job of building a new Albatros to the exact original specifications was never going to be an easy task."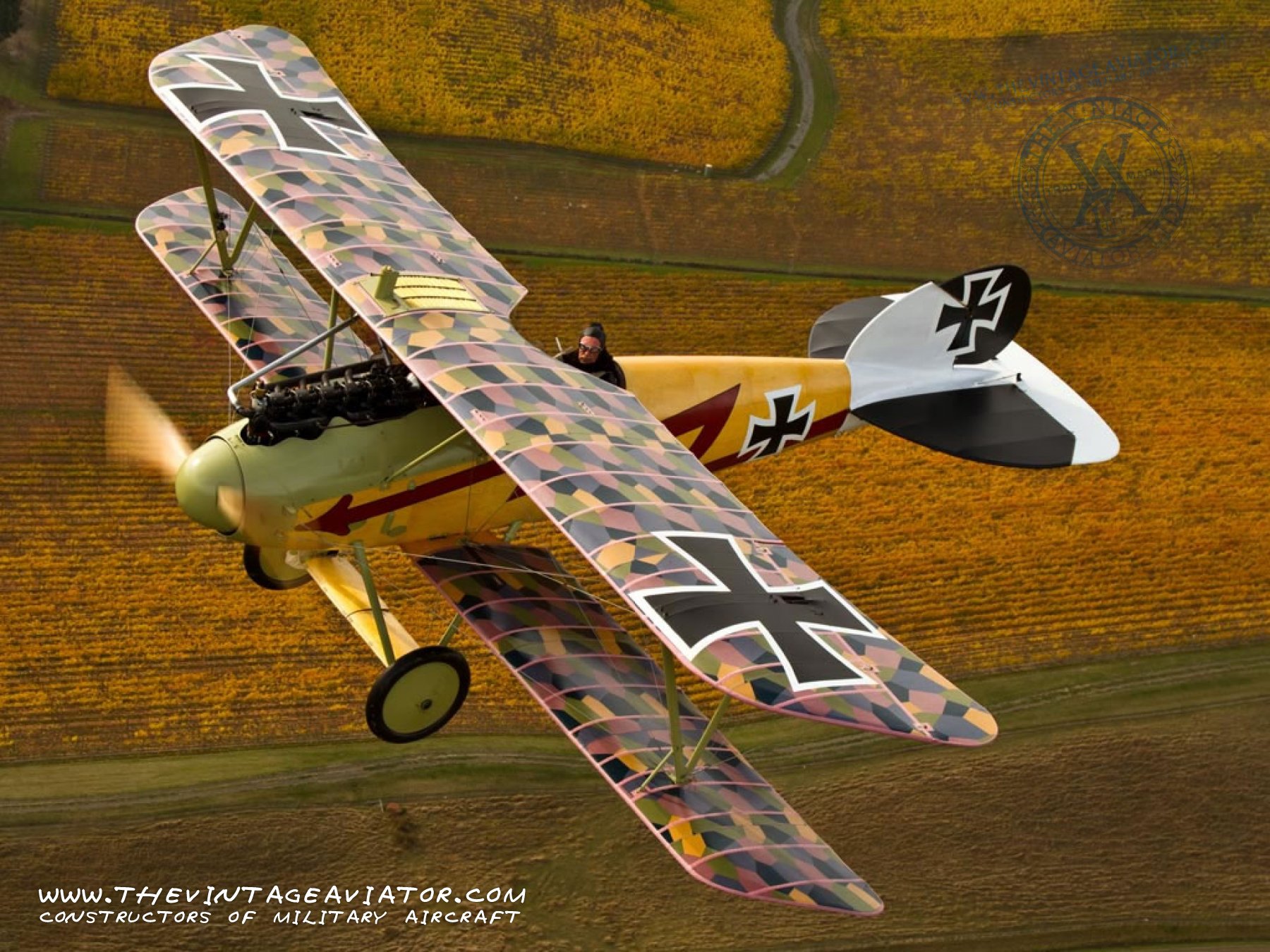 Getting the Right Information
Various reproductions have been completed by such experienced WW-I aircraft builders as Cole Palen, Jim Appleby and Walt Redfern (with Ron Sleep). Limited data has been available for some time, but not all of it has been reliable, so much of the information available today has come as a result of conservation work being carried out on the two original survivors. The first order of business would be to decide what information on hand was correct and therefore could be used during construction. The second problem would be filling in the blanks, finding the missing information and correcting any discrepancies. In order to avoid reinventing the wheel so to speak , TVAL prepared a package of readily available Albatros drawings and research previously done on the two surviving aircraft and then set out to compare this data with the closest original aircraft, the D.Va in Canberra, Australia (serial number D.5390/17).
Michelle Crosbie and Warren Rangi  from TVAL set off across the Tasman to make an initial study of the Canberra aircraft. To accomplish this they brought with them the information  "package" TVAL had collected consisting of all the available documentation, several sets of drawings and a number of photographs. The aim was to measure parts of the original aircraft and compare these measurements with the data  in order to identify which information was correct. This would not only consist of a precise dimensional analysis of parts but also identification of materials, fasteners, hardware and construction techniques if possible. Even full size paper patterns were made of some parts that could not be easily measured in place. The initial investigation proved there was a lack of sufficient data and serious deficiencies in the existing plan sets we had access to.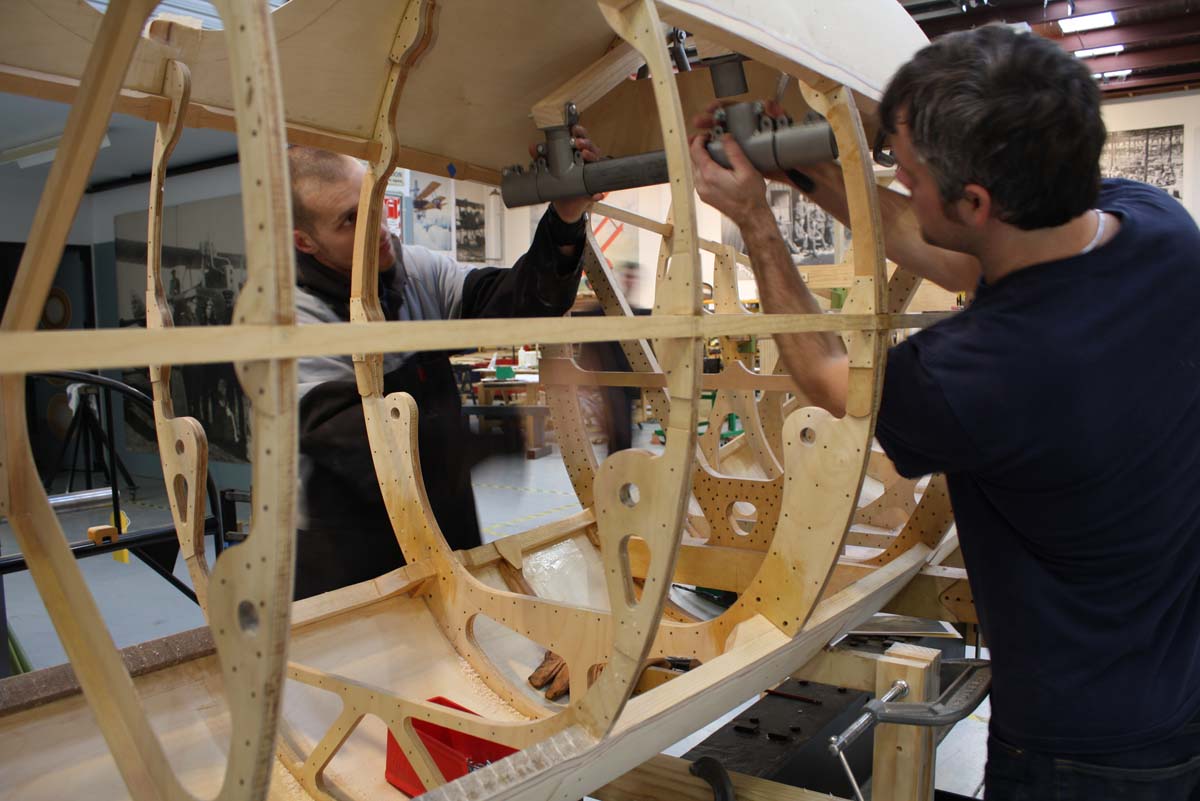 A radical new idea came to mind utilizing technology very new to aircraft construction but common to reverse engineering; LASER scanning and digital modeling. With this technology a very accurate computer model could be constructed that would duplicate the original aircraft and provide all of the data needed to reproduce an airworthy aircraft. This laser scanning technology seemed to be just what TVAL was looking for, it could obtain accuracies to 0.001 inches without direct physical contact with the object being measured! In some cases this degree of accuracy would have been more precise and detailed than original drawings. This tool consists of an articulated arm fitted with either a digital probe or a laser scanner, the arm has several "joints" which allow it to follow the shape of any surface, it can reach several metres in any direction.  Knowing TVAL would benefit tremendously from a 3D model we decided to attempt scanning a full size aircraft. TVAL already has amassed a great deal of experience reverse engineering components and complete engines, but an entire aircraft would be another story altogether. 
Full Build Galleries and Walkaround Gallery
Wingnut Wings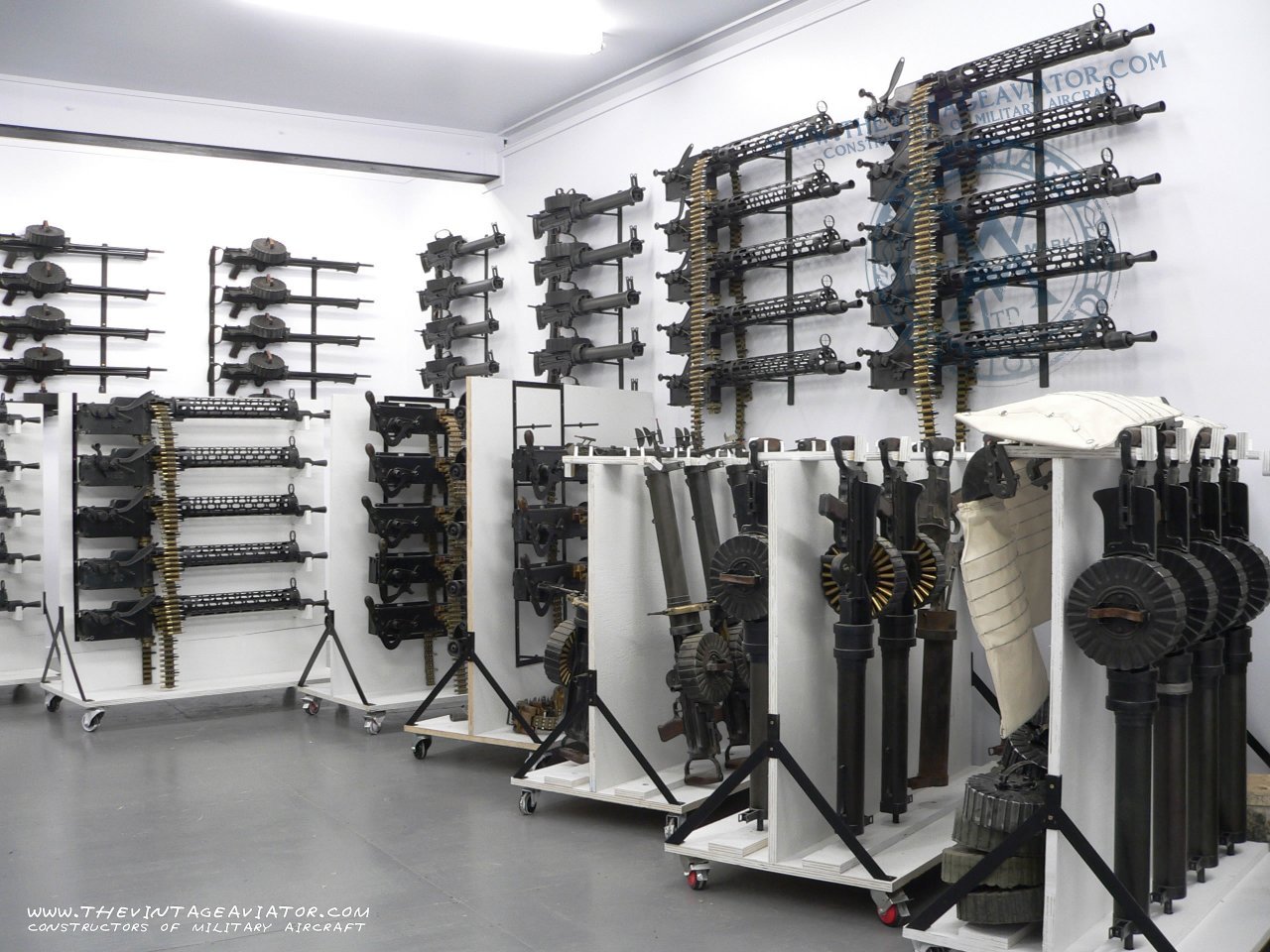 A second trip across the Tasman was organized, this time Uli Beck and Charlotte Key would be scanning the original airframe while  Warren Rangi researched many of the other parts and assemblies. Particular focus was directed towards  the construction techniques used and materials selection. After nearly two weeks of digitizing, enough information was captured to construct a complete digital model of the aircraft. As a by-product of all of this detailed digitizing, modelling and research TVAL is able to assist WINGNUTWINGS Ltd. in creating some of the most detailed and accurate 1/32 scale plastic model kits in the world. (Check out their website at www.wingnutwings.com and see the Albatros model kit now available.)
The unique shape and monocoque design of the Albatros fuselage created some manufacturing problems; starting with the materials, we had to make our own plywood for the fuselage bulkheads, source the appropriate nails and even make our own 5 color Lozenge fabric!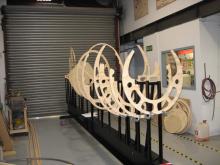 The construction of the airframe began with a mock up of the fuselage structure being created. This internal structure would be used as a learning tool to figure out how we were going to shape the various plywood skin panels and if all of the other components such as bulkheads, stringers, longerons and attach fittings were going to work. Once the basic shape was laid out we decided to build a fixture to form the plywood skins.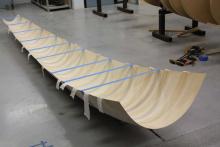 This fixture allowed us to manufacture the entire fuselage in four basic stages, the upper and lower skins which are essentially the same and the two sides. Each "skin" consists of several smaller sections of plywood scarfed together to form a much larger piece. Malcolm Frazer, already an expert at forming timber, used his experience to create a process that would replicate what was done nearly 100 years ago. There are also a number of complex compound curves and doublers that needed to be steamed and pressed into shape using large male and female molds. One of the most interesting differences between this aircraft and British aircraft of the period was the lack of metal fittings and simplicity of design. Once the tooling was made to fabricate the plywood skins the fuselage went together rather quickly.
Framework construction gallery | Fuselage construction gallery
Perfecting The Strategy
The Albatros wings and tail differ quite a bit from what we were used to with British aircraft; simple, strong and devoid of metal parts was the norm here. A great deal of ash (hardwood) was used rather than spruce, so we took time experimenting with steam bending ash wingtips and the upper wing cockpit cutout. After we perfected the strategy for bending the ash components we focused on the unique spar design. The D.Va utilized an improved lower wing spar, it is a built up spruce and plywood box, very different from the routed laminated spruce spars we were used to. Even the plain round cable bracing wires on the Albatros were a change from the streamlined RAF wires used on most British aircraft.
To many Great War aircraft builders the Mercedes D.III engine is the 'holy grail' of aero engines, it was fitted to a number of German fighters, bombers and two seat aircraft throughout the war. The engine itself is a work of art, powerful and reliable and very hard to find! In fact it took TVAL several years to find a suitable example to overhaul.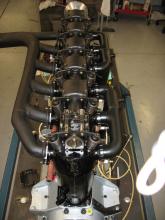 W

hile Ben Brister managed the construction team building the airframe the TVAL engine shop was busy overhauling an original Mercedes engine for the project. In the past we have built entire engines for aircraft such as the BE2 or the Fokker D.VIII but the Mercedes is a very different engine, it is a BIG six cylinder liquid cooled engine with a number of complex accessories, manufacturing this engine would be exponentially more difficult, as it was, we needed to manufacture several accessories for our Mercedes engine. Once parts were made to replace those that were missing we could start the rebuild process.
In addition to the obvious major airframe structures, we also had the requirement to build everything else! Wheels, tyres, instruments, hand air pumps, water pump greasers, replica machine guns, hardware, (including learning to splice cables), producing lozenge fabric, trying to match colors and correct geometric patterns by using original fabric samples as reference. And of course doing it all without proper factory plans. Specifying materials and determining sizes from sketches, photographs and captured aircraft reports proved time consuming and difficult. It's a cross between a great mystery and a jigsaw puzzle with a dash of history thrown in!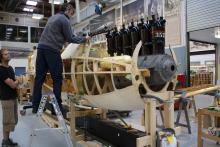 It did all come together though and the first completed Albatros was ready for its first flight by 28th October 2009.
After flying our "prototype" completed its test flying program we began construction on our first production example for Fantasy Of Flight in Florida, this aircraft was test flown on  April 14, 2011. 
The Color Scheme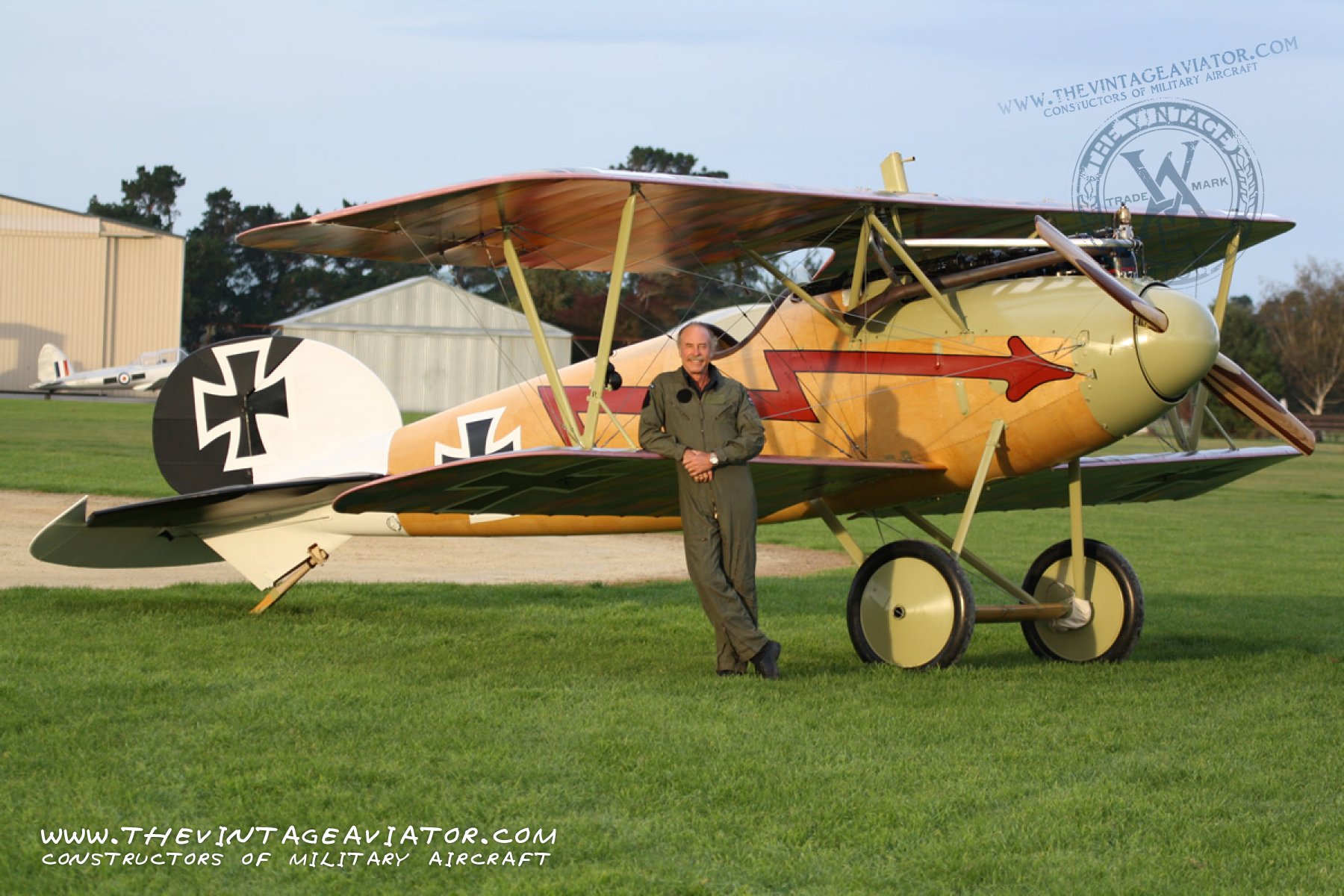 Kermit Weeks chose a striking paint scheme for his Albatros, the colors of Offstv. Adolf Schreder. These Jasta 17 aircraft featured a white tail area near the vertical stabilizer and a black rudder as well as the colourful and rather effective 5 color Lozenge fabric camouflage applied to the wings.
The Albatros photo gallery